Building a human-centric corporate culture for sustainable growth is among the priorities of human resources managers. A motivated workforce is needed to adapt to change and manage stress effectively. With SAP SuccessFactors Human Experience Management (HXM Suite), you can transition from transactional human capital management (HCM) to end-to-end human experience management (HXM) and increase the performance of your organization with a more flexible and highly loyal workforce. You can simplify your HR processes to drive better business results, find the right talents, develop future leaders, and engage all employees with automated, transparent processes and a digital HR experience.
What's in the SAP Employee Experience HXM (SuccessFactors) portfolio?
Employee Experience Management
- Flexible survey creation
- Role-based dashboards and reporting
- Built-in, customizable impact reports
- Guided action planning
- Tailored data exports
- Key-driver analysis
- Real-time dashboards
- AI-powered text analytics
- Digital intercepts and ticketing
- Event-based triggers
- Preconfigured and customizable dashboards
- Embedded and tailored reports
- Statistical key driver analysis
- 360-degree feedback
- Individual reports
- Easily configured questions, workflows, and report design
- Rich qualitative feedback and dynamic visualizations
- Experimentation using conjoint analysis surveys
- Enhanced offerings by segments
- Stronger total rewards program
Core HR and Payroll
- People, profiles and transactions
- Organizational management
- Time and attendance tracking
- Global benefits management
- Accurate payroll monitoring
- Standardized payroll processing
- Localized payroll calculations specific to Turkey
- Connected HR management
- Integrated HR knowledge base
- HR ticketing
- Embedded HR service analytics
- SLA compliance
- Streamlined document management
- Simplified access to employee documents
- Compliance management
- Automated HR document generation
- Access to everything employees need
- Intelligent recommendations, insights and actions
- Cross-departmental guided experiences
- An employee communications channel

SAP SuccessFactors Talent Management
- Global talent sourcing
- Candidate relationship management
- Comprehensive applicant management
- Access to needed talent
- Engaging onboarding portal
- Paperless new hiring process
- Onboarding, offboarding and cross-boarding
- Improved administration
- Employee goal management
- Continuous performance management
- Performance reviews and evaluations
- Guided action planning
- Compensation management
- Compensation design
- Reward and recognition
- Modern and engaging learner experiences
- Extended enterprise learning
- Compliance trainings
- Succession planning and leadership development
- Employee and career development planning
- Talent reviews and calibration tools
- Commissions
- Territory and quotas
- Agent performance management

On the way to a market-leading cloud-based HR employee experience platform…
Prioritizing employee experience, SAP SuccessFactors Human HXM is designed based on market leader cloud HCM solutions. It offers employee experience-oriented end-to-end cloud solutions for HR business processes, and helps you to benefit from the power of SAP with its technological infrastructure.
Intuitive solutions that support employee success
User-friendly, cloud-based software support
An infrastructure powered by smart technologies such as machine learning
Integrated tools to evaluate feedback in real-time
You can review the research conducted by Oxford Economics and the Society for Human Resources Management for SAP SuccessFactors to understand the emerging realities facing employers and employees and the next steps for leaders in 2021 and beyond.
With SAP HXM Suite, support your employees' career journey with exceptional experiences
Create the best employee experiences to have an agile and productive team.
Utilize human experience management (HXM) instead of human capital management (HCM).
Design customized and meaningful employee experiences.
Develop tools that will allow new team members to socialize and learn about the corporate culture.
Discover what inspires your employees and why. Generate customized learning and development paths.
Monitor the performance and success of employees in real-time and enhance their loyalty.
Click to download Forrester's report enlightening the path for organizations that want to boost their employee experience.
Start the change with SAP HXM Suite!
Chosen by companies from around the world, SAP SuccessFactors modernizes HR business processes. It helps companies overcome the challenges by building agile, innovative, and confident organizations.
Contact us to design the future together.
Click to explore our SAP SuccessFactors HXM success stories.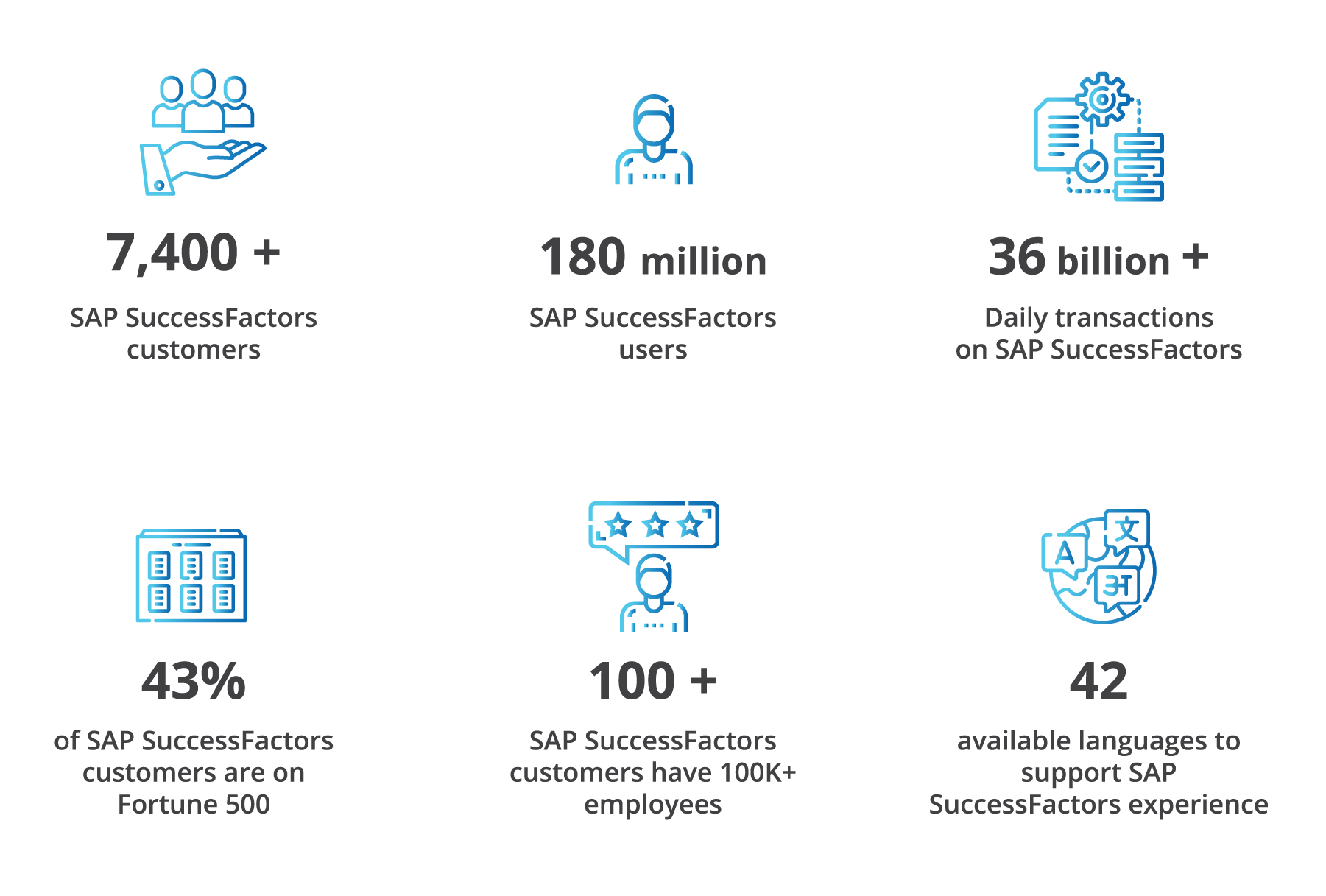 Use SAP HXM Suite and enrich employee experience!
Customer Community
Leverage the knowledge of an active customer community of SAP SuccessFactors solution experts and customers.
Advisory Services
Tap into the expertise of SAP SuccessFactors solution experts to accelerate your HR transformation and achieve the right business outcomes.
Trainings
Generate maximum value from your SAP SuccessFactors solutions with live training and certification courses.
Original Research
Gain access to original research from our SAP SuccessFactors research team focused on employee experience, HR, and HR technology.
Click to read the Forbes article by Lara Albert, one of the Leaders of SAP SuccessFactors, on the future of HR.
Why should you choose SAP SuccessFactors HXM solution?
As a global market-leading service provider and a cloud-based human experience management HXM suite solution, SAP SuccessFactors lets you provide employees with experiences and consistently motivate them to achieve peak performance levels.
Businesses of all scales use SAP SuccessFactors Human Experience Management HXM Suite solution to transform and expand their HR strategies. With SAP HXM, you can find, train, and manage the right team, and create exceptional employee experiences by gaining data to understand how people feel and why.
Customers' Choice
SAP SuccessFactors has been named the Customers' Choice in the 2021 Gartner Peer Insights, which analyzes customer reviews. Click to read the customer reviews.
Contribution to the UN Sustainable Development Goals
SAP SuccessFactors develops technologies and partnerships on workforce sustainability to support the United Nations (UN) to achieve its Sustainable Development Goals (SDG).
Why Detaysoft?