Stay safe and healthy with IoT technologies in the time of Covid-19!
Introducing IoT technologies that help overcome obstacles in the fight against Covid-19. The IoT technologies, developed by NetOp Technology and offered by Detaysoft, make it possible to stay safe and healthy in factories, campuses, municipalities, industrial zones, hospitals, supermarkets, schools, shopping malls… Wherever people interact with others.
The platform-agnostic IoT solutions can also be integrated with SAP SAC reporting and SAP SF human resources systems.
Occupancy and social distance in factories, markets, schools, shopping centers and restaurants will be managed by sensors. Click the link for details.
We need to learn how to live with Covid-19!
Social Distance Sensor
Experts recommend us to maintain a minimum distance of 1 meter with other people within the same space. Social Distance Sensor measures the distance between two people in real time. For instance, the distance between a customer and the cashier at a supermarket check-out is measured instantly, and a sound and light alert is triggered when the social distance limit is violated.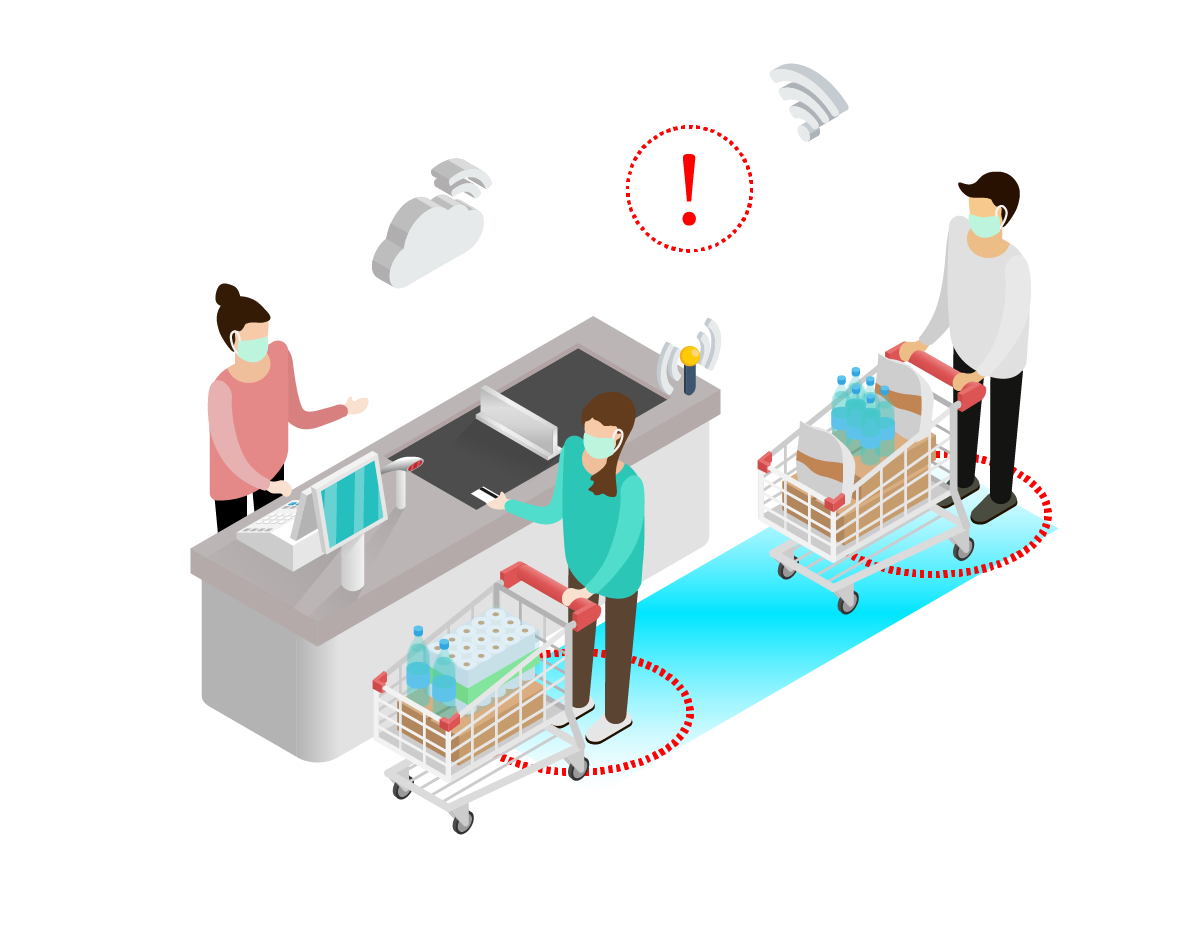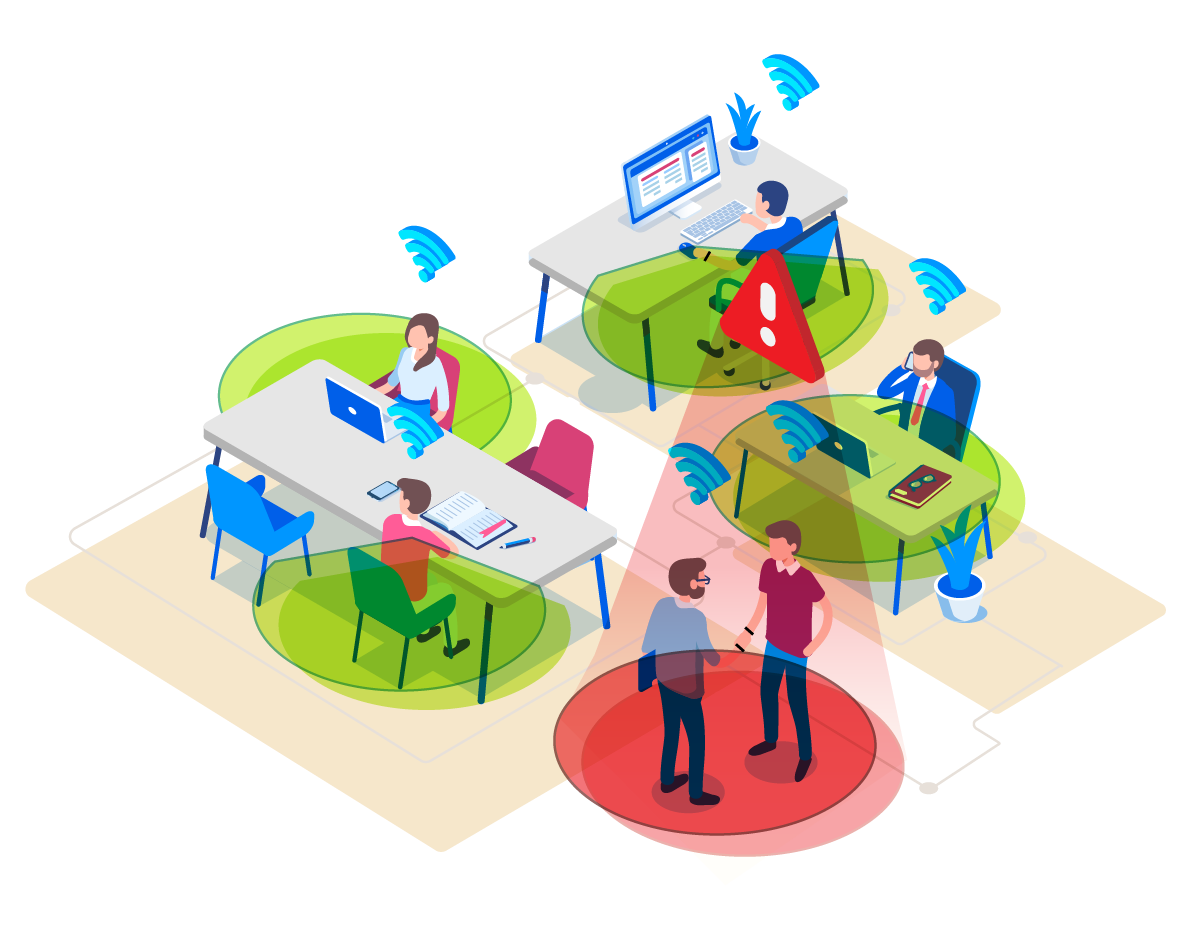 Social Distance Bracelet
Social Distance Bracelet creates a dynamic virtual geofence around an employee, and triggers a sound alert when the safe distance is not respected.
Smart Distance Alert Device
Smart Distance Alert Device helps employees and customers maintain safe and healthy distance in public spaces. The device scans the space to detect if anyone is within 2 meters distance to another person, and sounds off an alert when the minimum distance is violated.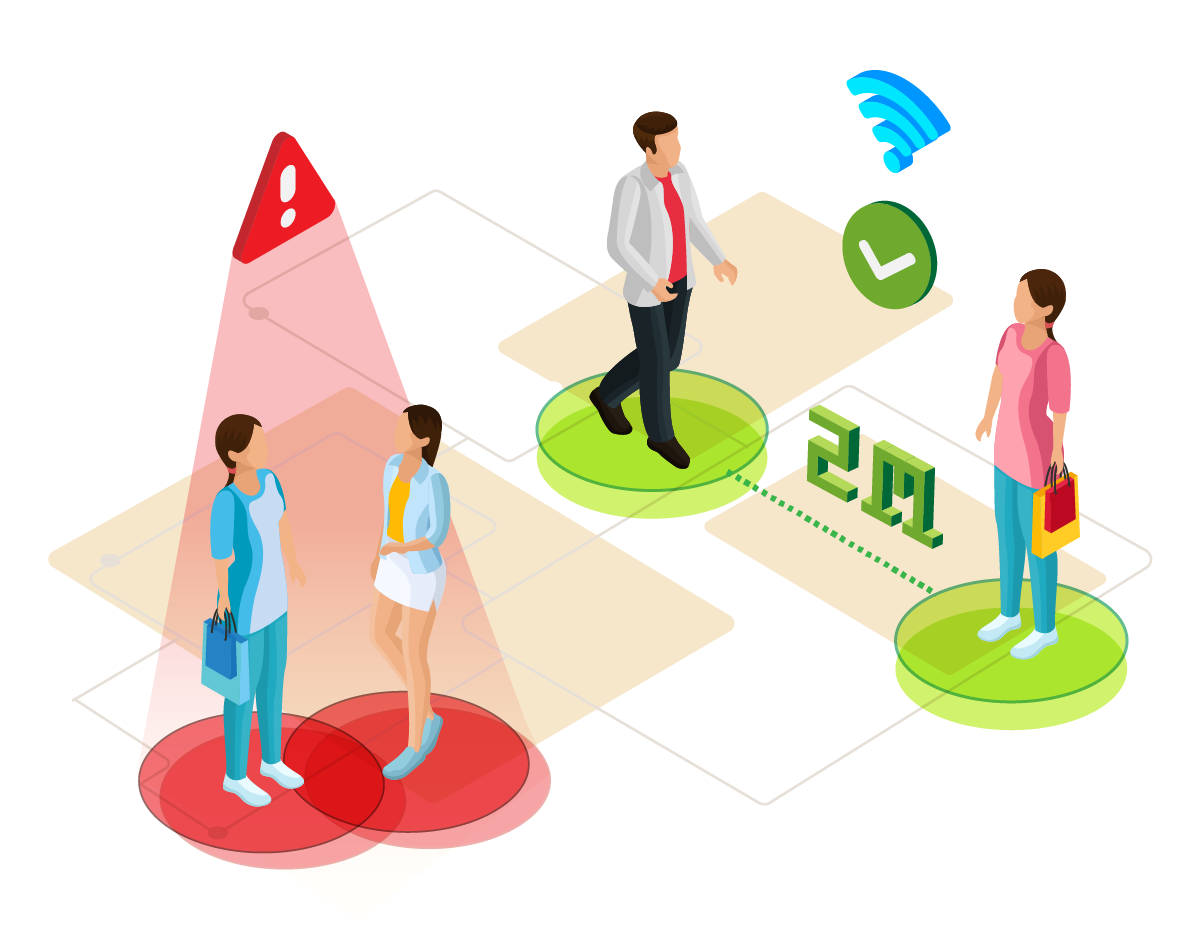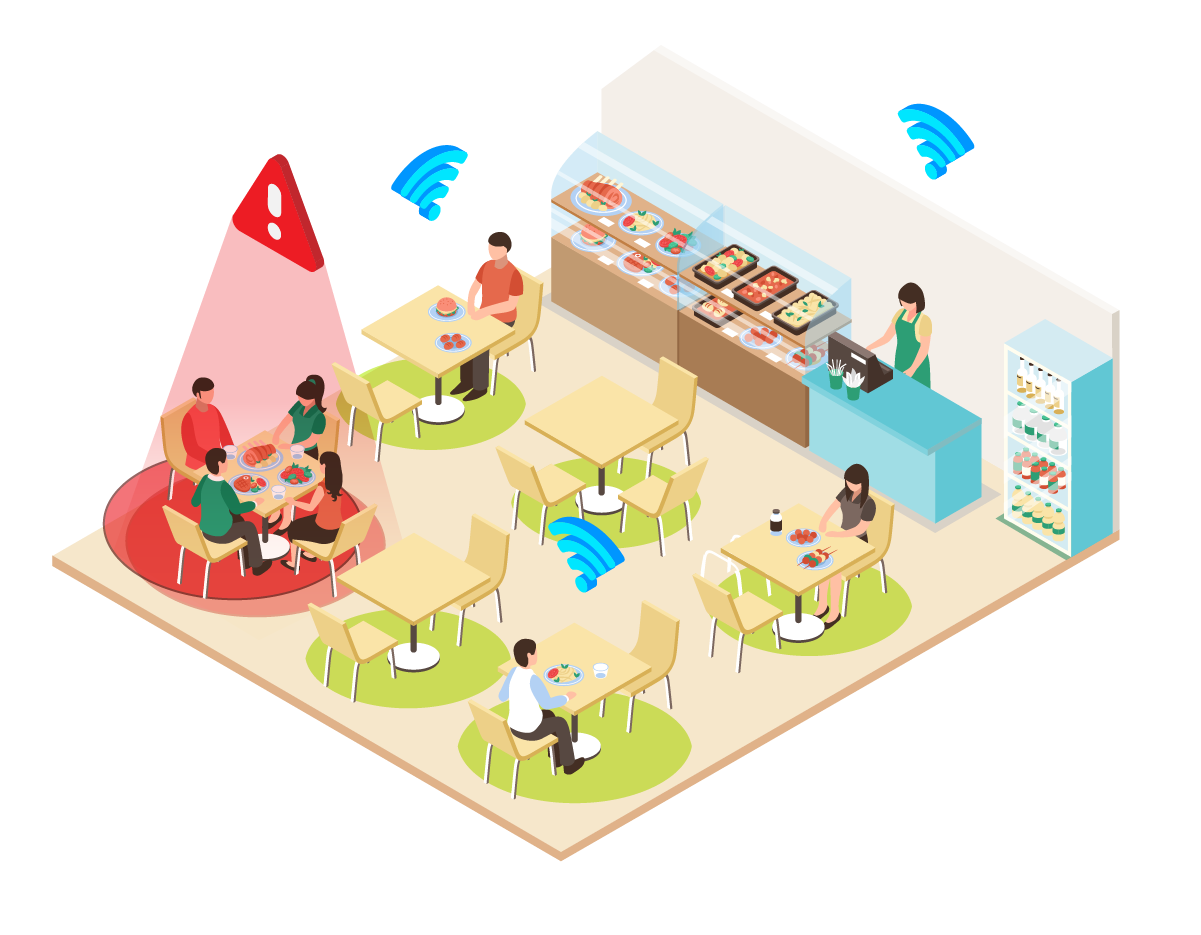 Desk Occupancy Sensor
Desk Occupancy Sensor helps maintain social distance and ensures safety by checking whether or not the desks in the open offices or schools are occupied.
Public Space Occupancy Sensor
Social Space Occupancy Sensor makes it possible to measure occupancy rates in public spaces such as schools, hospitals, shopping malls, supermarkets and stores.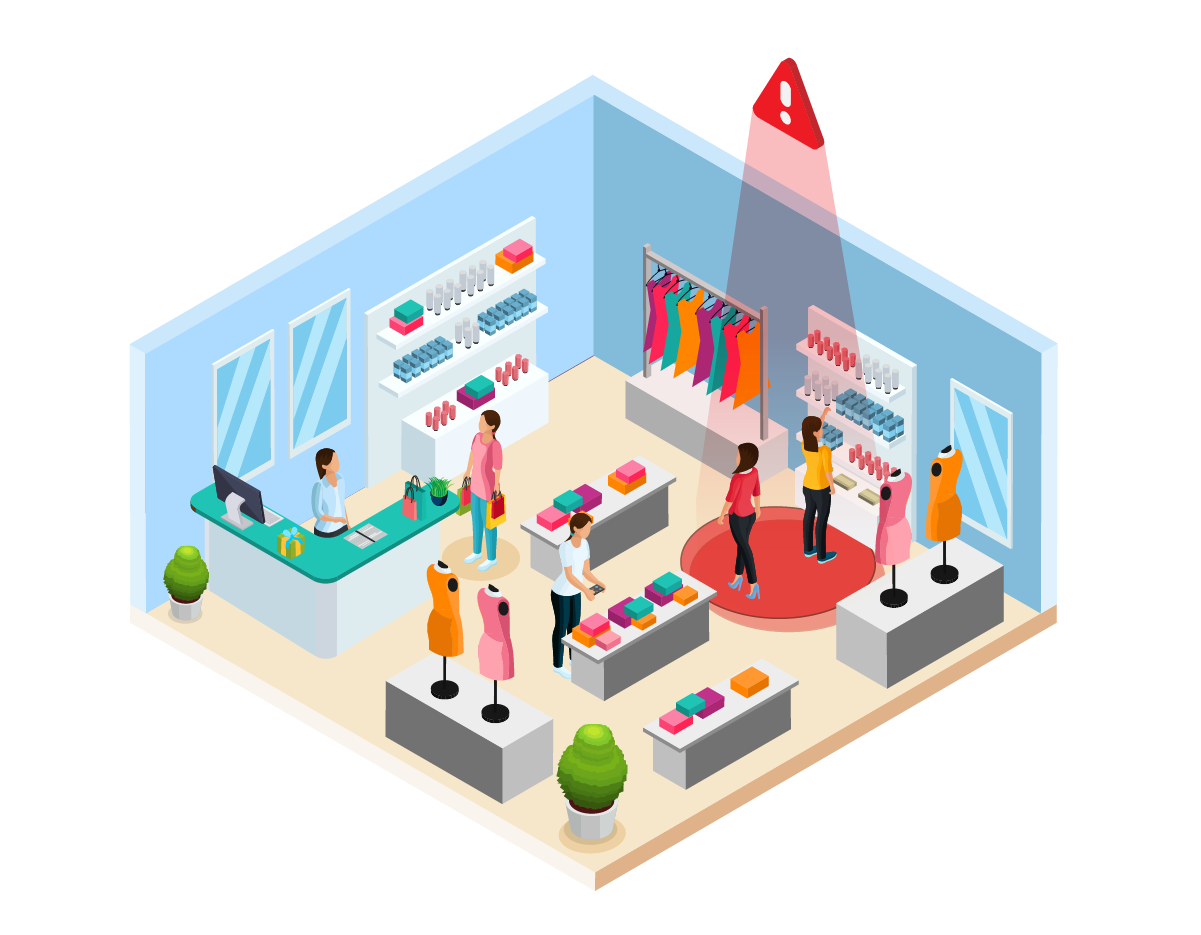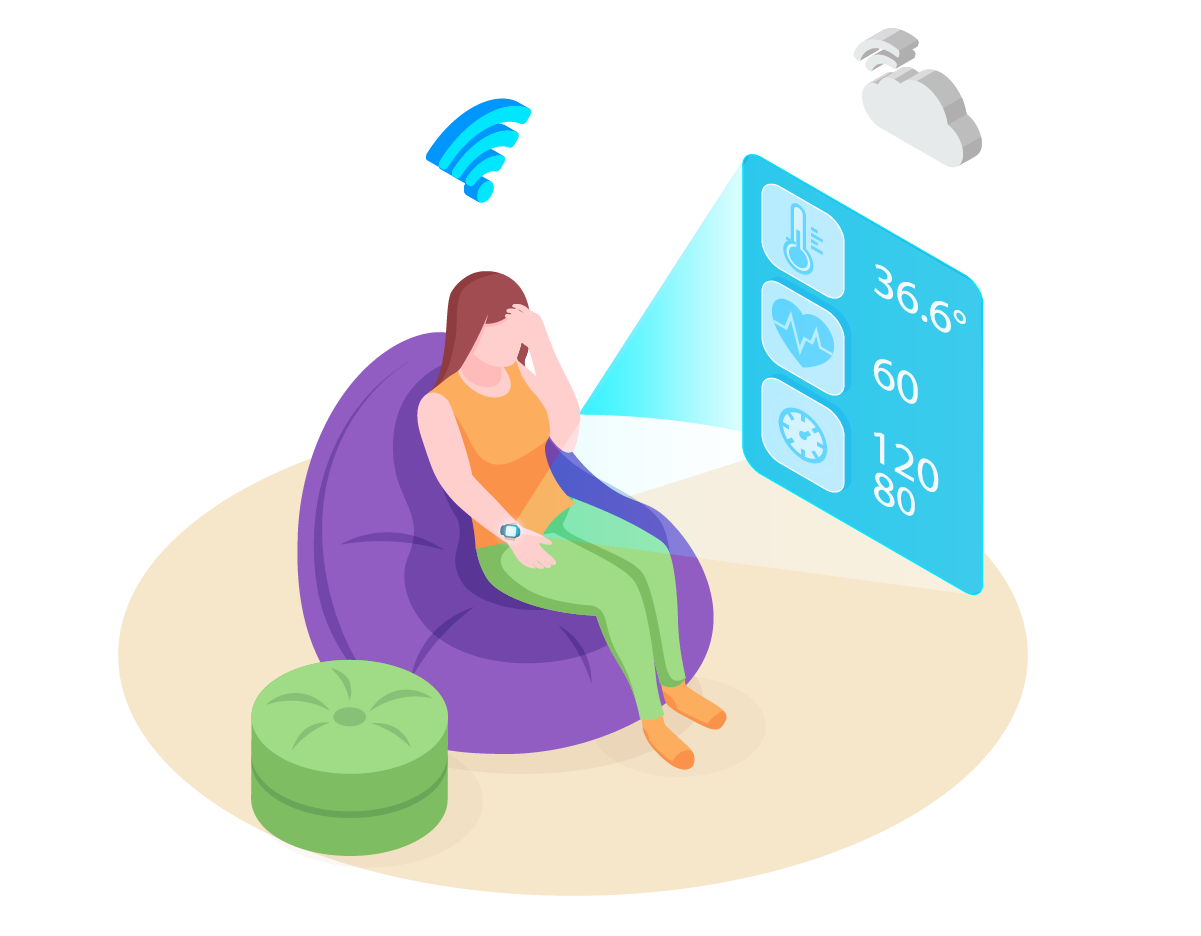 Body Temperature Sensor
Having a fever is regarded as one of the first symptoms of a possible Covid-19 case. The Body Temperature Sensor measures the body temperature at regular intervals and transmits the data to the system via a cloud-based and AI-assisted app. With a compact design (4.2cm x 7.2cm x 1.9cm) and long battery life, the sensor offers convenience, making it a preferred device for patients, healthcare workers, people in high risk groups, living alone or in quarantine, and company employees as well as for use in nursing homes, shopping mall entrances, and public transportation vehicles.
Infrared Fever Device
Developed for people to stay healthy Infrared Fever Device measures body temperature without contact, automatically communicates the value to the cloud-based system via Bluetooth, and features a reporting function.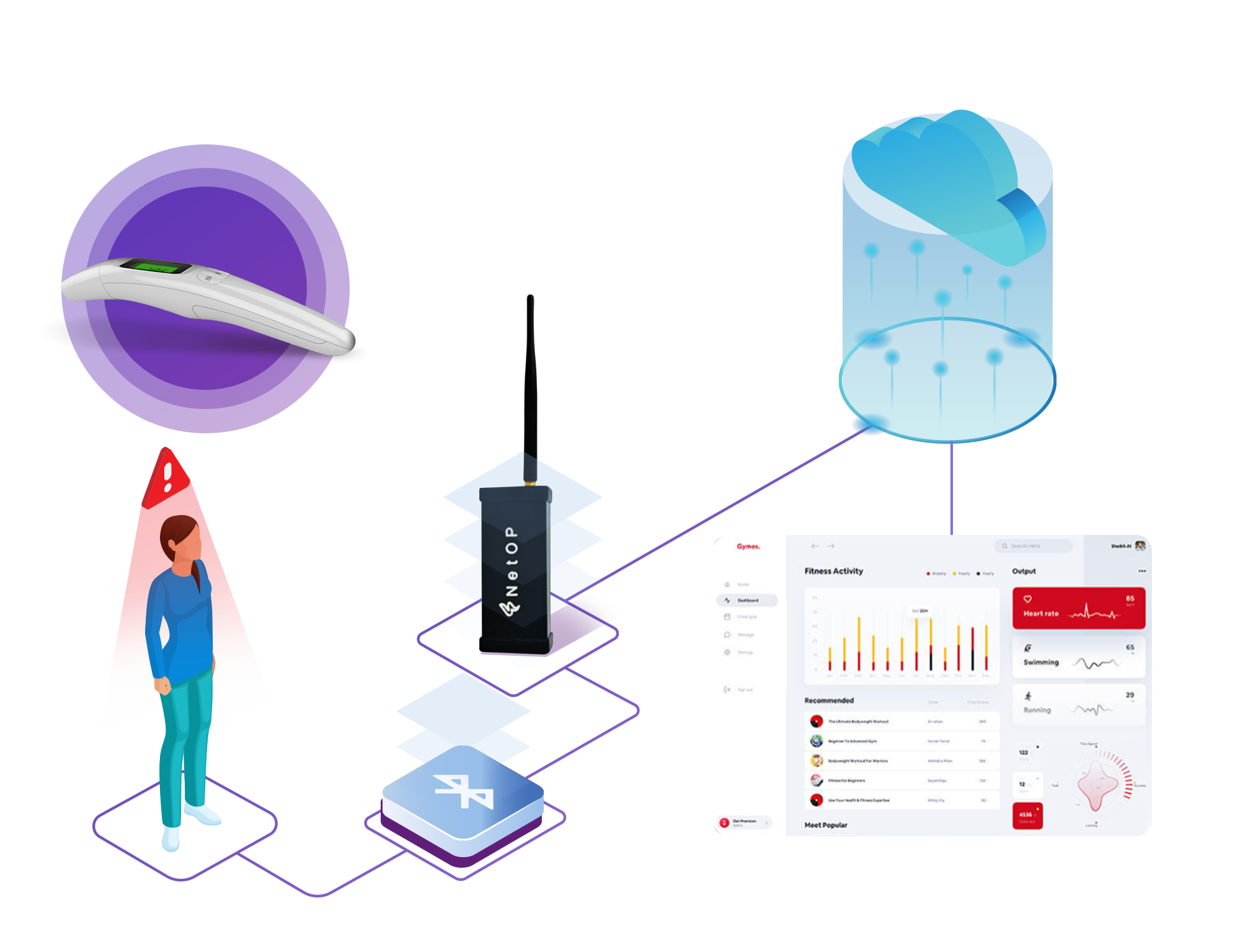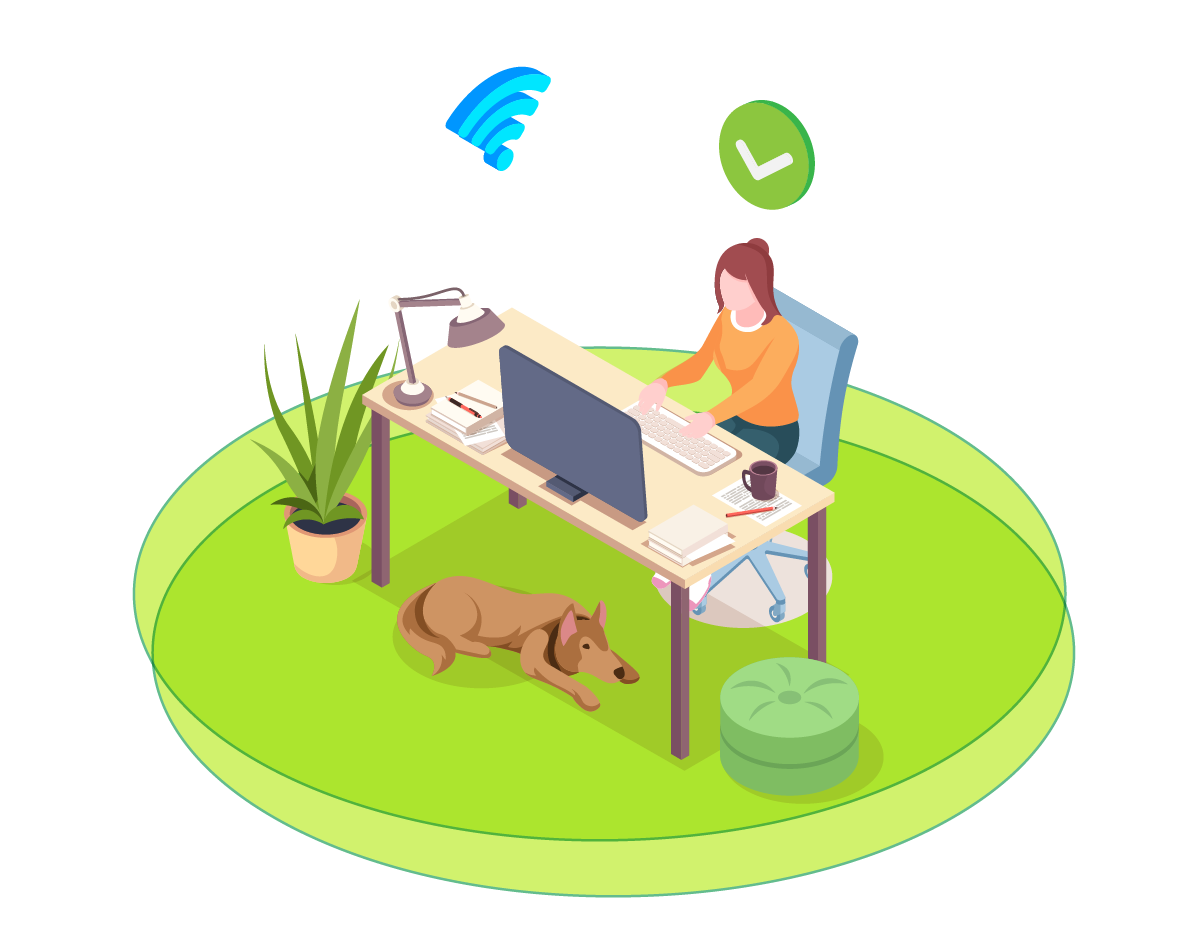 Stay at Home Sensor
Physicians may recommend some patients to continue treatment at home, or people with suspected infections to self-quarantine. This is where sensor technology comes in to ensure that quarantine rules are followed. The Stay at Home Sensor, ideal for patients, and particularly children and elderly people, is offered in the form of a compact, water-resistant wristband with long battery life. The wristband also generates a signal when the wearer remains immobile for a specific time. The wristband comes with a fixed strap that is difficult to remove, and generates an alert if cutting and removal is attempted.
Toilet Usage Sensor
This sensor measures toilet usage to help calculate cleaning and disinfection frequency.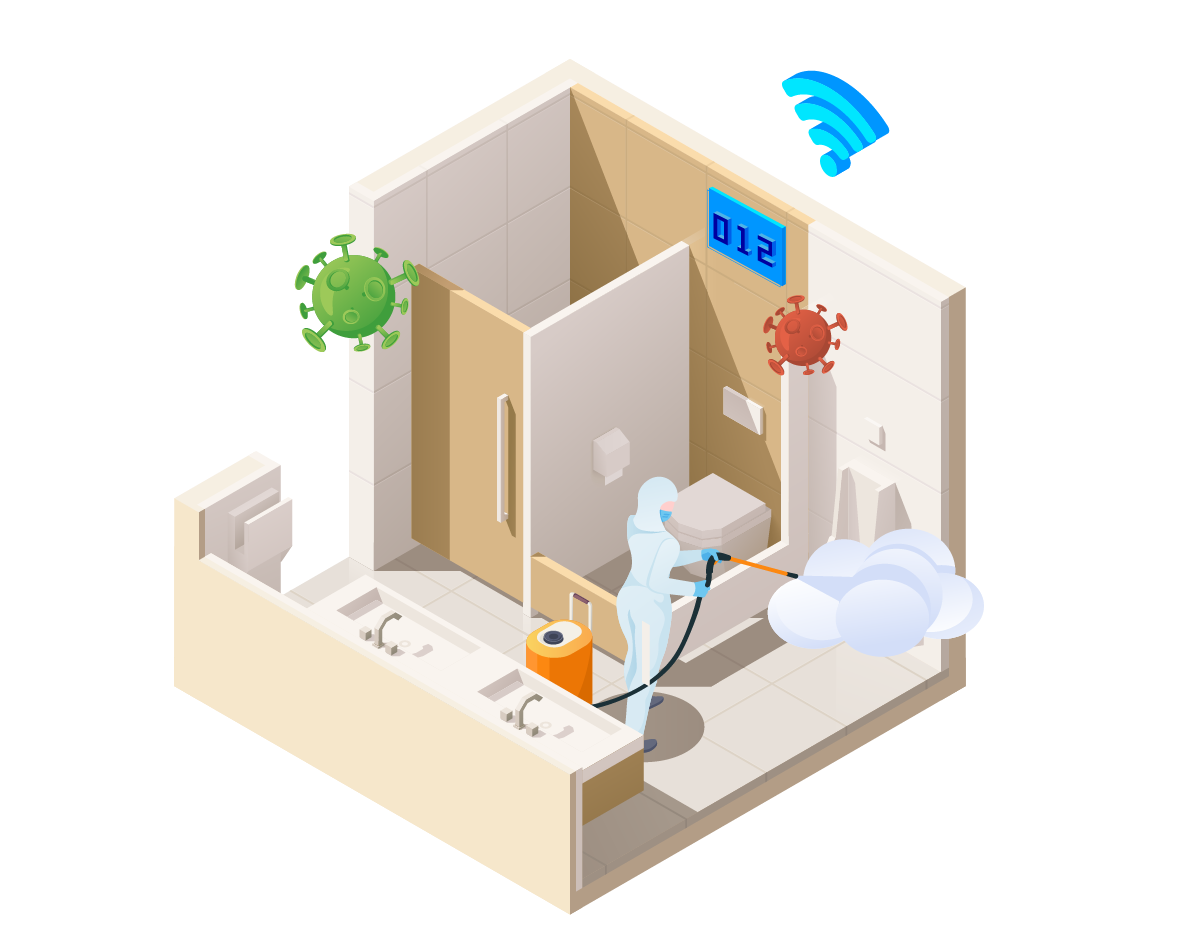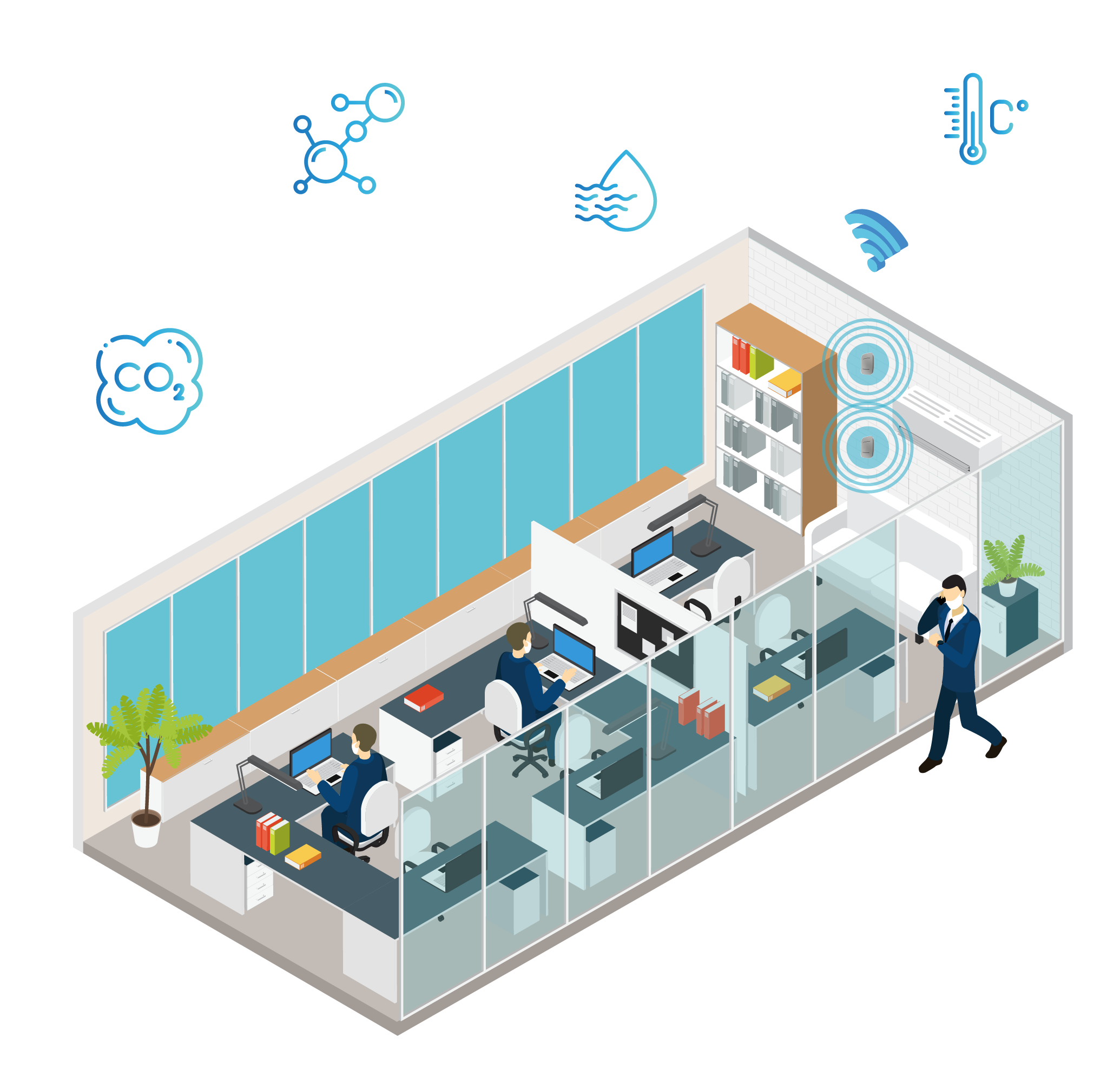 AirQuality Sensors
It is more important than ever to measure the air quality of our environment against the possibility of infection during the Covid-19 pandemic! Particle Meter and CO2 Meter Air Quality sensors enables to measure and control the air quality data such as oxygen ratio, particle level, CO2 in the surrounding space where there is more than one person at a time.
IoT technologies beyond borders!
Forest fires rise in number in the summer months and cause devastating impact on fauna and flora if they are not contained quickly. IoT technologies now make it possible to create an early warning system. The Forest Capsule solution, which utilizes sensors placed in forest areas, measures carbon dioxide, heat and smoke levels to detect fires at the onset and transmit information to the authorities. The AI-assisted solution also analyzes fire risks and sends location notifications via GPS to ensure that fire teams are directed accurately. With a durable design, the Forest Capsule can be dropped from helicopters even to the steepest elevations in forest areas and deployed immediately.
NetOP's IoT technologies are used across a wide range of applications around the world. Some examples:
• In the Netherlands, illegal energy generation sites were detected by monitoring electricity consumption.
• The tracking systems installed in public transportation buses in the UK resulted in 30% fuel savings.
• Cleaning activities were optimized by monitoring toilet usage frequency in Buckingham Palace.
• With weather-resistant sensors placed in 7,000 garbage containers, Pendik Municipality (a district in Istanbul) was able to optimize garbage collection traffic.
NetOp Technology develops IoT sensors and devices, which are exported to more than 50 countries. For more information on our IoT solutions that use NetOP sensors, please contact us.