Accelerate digital transformation with Detaysoft!
What is SAP Leonardo?
SAP Leonardo is a holistic digital innovation system that seamlessly integrates future-facing technologies and capabilities into SAP S/4HANA. It enables you to rapidly adapt to innovations, scale new models according to your company strategy, and continually redefine your business.

Innovate
With industry experts, carries out innovation activities, focused on business priorities, processes and people, enabling you to seize business opportunities with the latest technologies. Integrate technology into your business processes to achieve groundbreaking results.

Scale
Provides organization wide scaling of digital transformation step by step and systematically. Enables determining of a wider organizational strategy.

Integrate
Statistics that offer significant benefits in daily work facilitate the implementation of projects with new generation technologies such as big data, blockchain and IoT. By using SAP cloud platforms, activities can be integrated into the digital core.
As you integrate changing technologies for today, your activities will not be interrupted, and you will find opportunities to innovate in all areas while your business continues safely.
Built for all industries, tailored for yours!
SAP Leonardo was designed to be adaptable and open to bring innovation at scale to every industry. It lets you build a solution specific to your industry or business need. Plus, to facilitate more rapid implementation, an initial set of pre-built accelerators are available.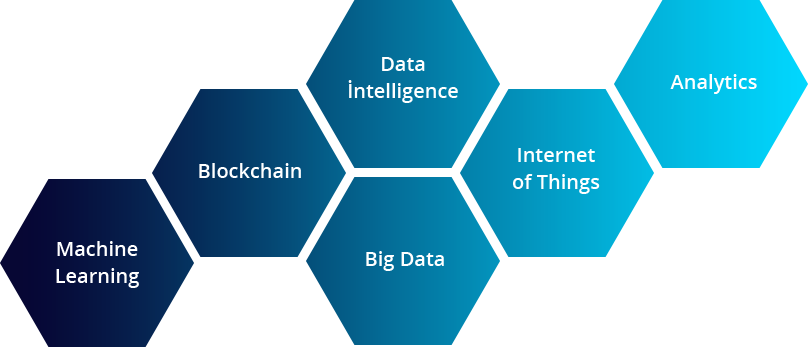 Analytics
Share all business-related analytics with your employees, shareholders and customers. You can seize innovation opportunities with new processes and applications based on insights insights that enable transformative actions.

Big Data
Manage and process vast amounts of big data. Your performance will improve with distributed storage and computing. Deployment, scaling, processing and sharing of data is now faster than ever.

Blockchain
With blockchain services embedded into business applications, you can achieve increased trust in peer-to-peer transactions. Since data is audited more, wrong data is eliminated. By reaching correct data, clear visibility of goods and products can be achieved.

Nesnelerin İnterneti
Organizations keep seeking new ways of tapping into IoT to run smarter and develop their businesses. Get information about sensors and microprocessors via your computer or mobile device. The innovative Leonardo IoT that connects objects to people transforms business models and processes.

Machine Learning
Use next generation technologies to identify and seize opportunities. With Big Data and IoT, automate risks and information. Processing data creates a valuable strategic resource.

Design Thinking
This engaging methodology used to uncover opportunities for digital transformation reimagines a shared vision of the future digital enterprise. This approach, used not only to develop innovative products but also to conceive service, process and space ideas, enables a mistake made in the design or discovery stage to be fixed before the development step.

Data Intelligence
It analyzes the data that organizations will use to expand their services or investments. The data analyzed to make the right decisions ensure that workforce is used efficiently. With trusted, real-time analyses, bad scenarios in the decision-making process are eliminated.

SAP Cloud Platform
It provides a common foundation across applications and technology. With in-memory, real-time data management, it integrates things, people, and processes.
A Unique System
• User-centered design thinking
•​ Rapid and continuous innovation that scales
•​ Solutions to digitize an entire business
•​ 40+ years of business processes experience
•​ Simplicity in licensing/pricing
•​ End-to-end solutions
Launch innovations with SAP Leonardo!
"SAP Leonardo will unlock the full potential of the intelligent enterprise."
– Bill McDermott, CEO
"SAP software contributes to more efficient management of the city, simplifies our operations, and greatly improves the quality of life for all."
– Rodrigo Silvosa, Deputy Minister of Public Space Maintenance, City of Buenos Aires
"Our work with SAP S/4HANA lays the groundwork for sensors, Internet of Things, and machine learning – all of the things that make sense for the enterprise."
– Tom Pollock, Head of Information Management, Northern Gas Network
"With SAP predictive modeling and data visualization, we can better understand our workforce, identify turnover factors, and keep the right people."
– Chris Orban, VP Advanced Analytics, Covenant Transportation Group
SAP Leonardo in A Minute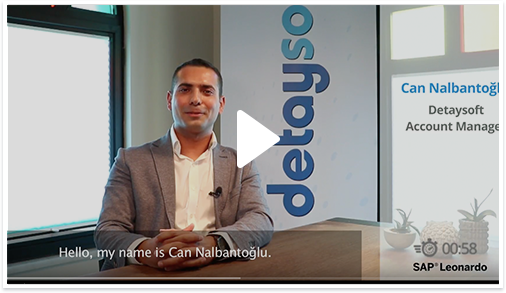 Do you want to explore the SAP Leonardo'yu in a minute?
SAP Leonardo product family includes solutions that SAP offers under Industry 4.0 and digital transformation topics. Leonardo's mission can be summarized as bringing together the organizations' business processes employees process and devices in one single platform.