SAP S/4HANA supports your transformation with next-generation processes that connect your entire value chain, putting the power of automation and insight in the hands of your workforce. The path to SAP S/4HANA via a system conversion is a popular transition path for existing ERP customers. With a System conversion approach, you can conduct a technical conversion project and adapt mandatory simplification/migration with subsequent projects to adapt new business process innovations at your own pace.

Eliminate today's challenges, transform for tomorrow's opportunities. Modernize your ERP and unlock the value of intelligent technologies for your company. Join the SAP S/4HANA movement with Detaysoft, which is a member of United VARs; start your journey to the intelligent enterprise now.

Why Intelligent Enterprise

Intelligent enterprise has the ability to sense and respond - in real time - to rapid changes brought by increasing customer expectations, new innovations, and emerging competitive disruptions. Harnessing new technologies, a workforce can focus on higher value activities that drive differentiated outcomes.
35%
Reduction in capital
requirements
12%
Reduction in number
of days in inventory
20%
Reduction in
manufacturing error rate
48%
Reduction in days
sales outstanding

Why Now

Modernizing your ERP provides the foundation to connect your data, automate key functions, and constantly improve your products and services. With SAP S/4HANA Conversion, you can:
• Eliminate technology hurdles that create business challenges
• Deploy the power of AI to differentiate your business model
• Empower every employee to make faster, better decisions
• Redeploy limited resources towards customer value
• Drastically reduce IT cost

Seize the future with "MoveOn!"…

"MoveOn! Detaysoft SAP S/4HANA Conversion Factory for Intelligent Enterprises" is a package solution for supporting phased conversions from an ECC system to SAP S/4HANA quickly with less effort. No matter in which part of the world you are, convert to S/4HANA with our standardized and SAP-qualified approach, utilize Detaysoft's experience and industrial know-how in areas such as Finance, Supply Chain, R&D, Sourcing&Procurement, Sales, and Human Resources.

It is an SAP Qualified Partner-Packaged Solution by Detaysoft for supporting phased conversions from an ECC system to SAP S/4HANA quickly with less effort.

MoveOn! offers 3 packages: Small, Medium and Large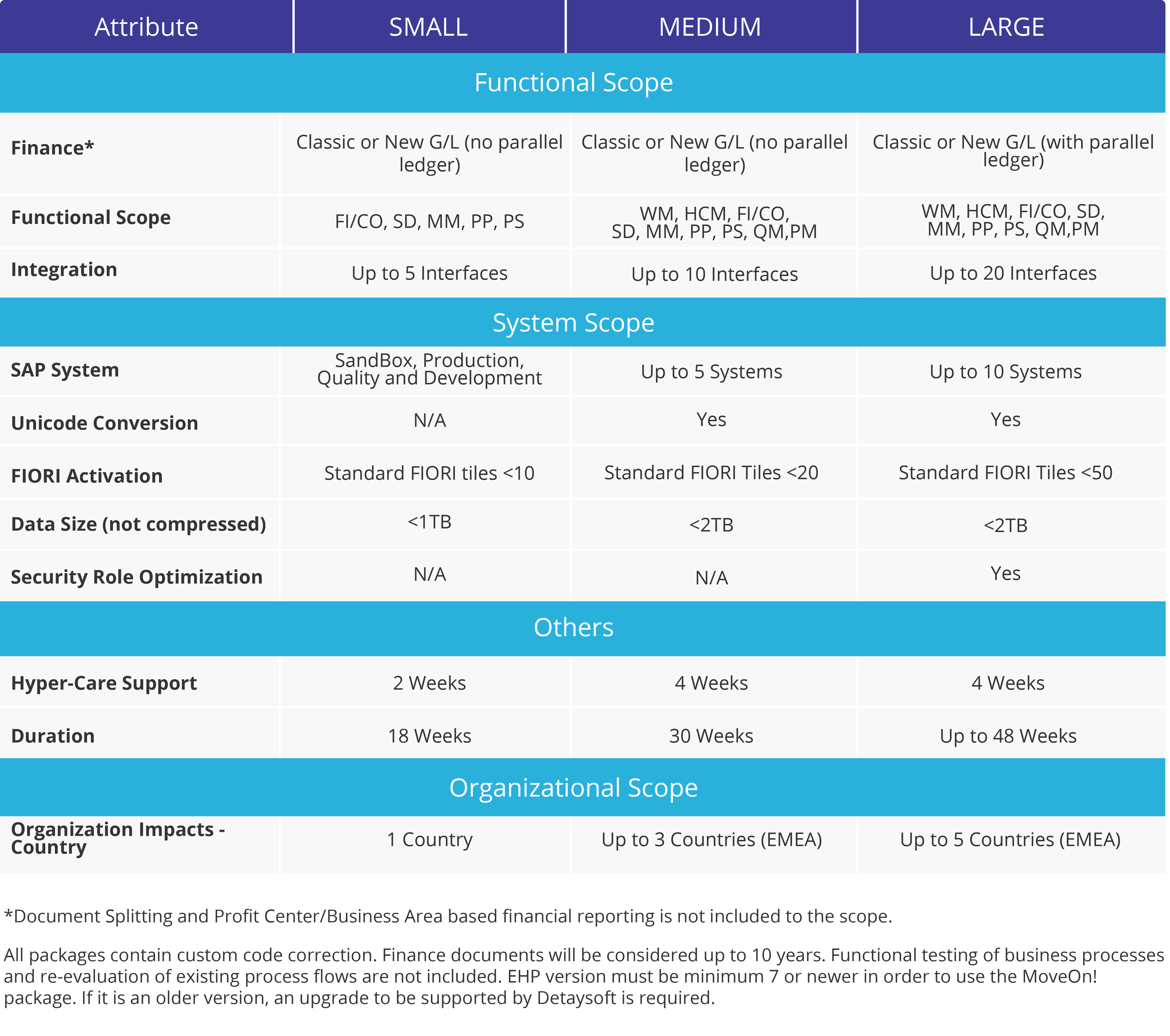 MoveOn! SAP S/4HANA Factory Process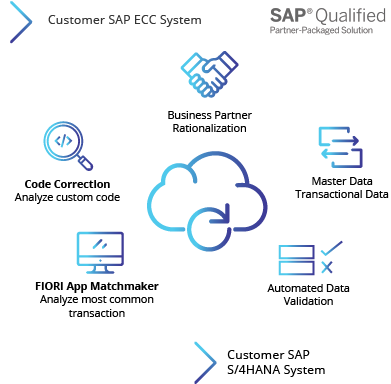 Why Detaysoft
• A top-level SAP Platinum | Global Partner
• The only member of United VARs in Turkey
• 20 years of experience
• Deloitte Technology Fast50 company
• 400+ skilled employees
• 20 S/4HANA success stories
• Award-winning digital transformation projects
• Experience in 20+ countries