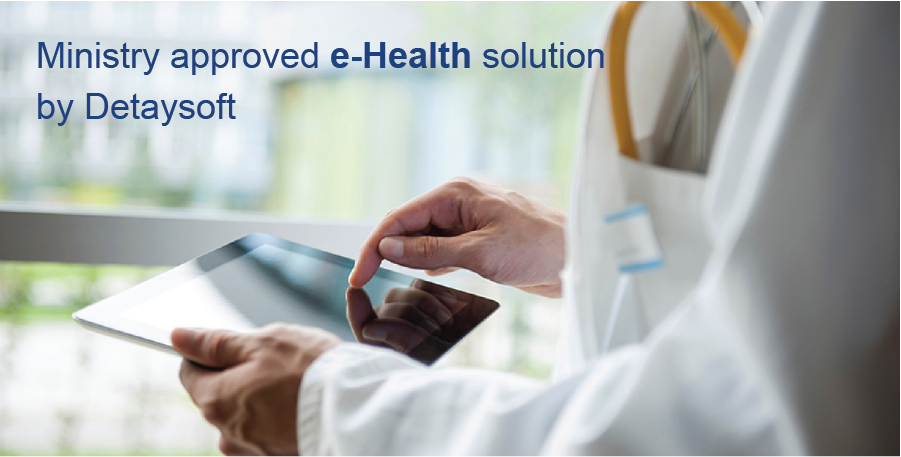 What is e-Health?
Ongoing technological developments concern the healthcare industry as well. New technology applications that facilitate business processes are of critical importance in order to achieve maximum benefits.
The e-Health solution, developed by Detaysoft, is an innovative product that facilitates and accelerates healthcare-related processes of organizations. The software used by the workplace physician allows monitoring of all examinations such as employment examination, periodic examinations, normal examinations, work accident examinations and return to work. Information on the medications recommended to employees is kept on e-Prescription. Reminder messages can be automatically emailed to employees for dates of vaccinations and periodic examinations, etc.
Features
Detaysoft creates e-transformation solutions that comply with different countries' regulations.
• The solution allows you to obtain reports and analyses in the ministry standards based on available data.
•​ Offers an end-to-end solution for your needs with examination, diagnosis, treatment, medication and sick leave screens.
•​ The solution features screens that aim to reveal the nature of the disease based on the symptoms and all kinds of examination findings related to the disease.
•​ When a decision is made to administer a treatment for the diagnosis indicated on the diagnostic screen, the treatment screen is used to enter date and general description of treatment.
•​ The solution provides the workplace physician with all details through referral and file screens.
•​ e-Health is compatible with the e-Prescription and e-Signature solutions.
Why Detaysoft e-Health?
• Offers screens that can be easily used by workplace physicians.
•​ Allows assessment by considering the current general and physical findings of the employees.
•​ Keeps information on the referral of employees who cannot be treated in the workplace to nearby hospitals.
•​ Allows access to information about a sick employee including how they went to the hospital, whether they had a companion, and if so, the details of such a person.
•​ The workplace physicians can access the medicines they have prescribed on a single screen.
•​ Provides fast information flow with SAP screens for all requested needs.
•​ The solution meets the needs of workplace physicians, OHS (Occupational Health and Safety Unit) and corporations in digital environment and relieves their workloads.