14 May 2020
Detaysoft, a member of United VARs, the international alliance of SAP solution partners, invested in NetOP Technology, named among the world's 25 most innovative technology companies. NetOP Technology, which provides the world's first and only hybrid IoT architecture, aims to expand the reach of its successful IoT solutions across the globe in partnership with Detaysoft.
NetOP Technology was founded about 2.5 years ago and soon after ranked among the world's 25 most innovative companies in IoT (Internet of Things) technologies. The company recently received investment from Detaysoft, SAP Global | Platinum Partner in Turkey.
Alkin Aksoy, CEO, Detaysoft, and Member of the UVARs Steering Committee, said, "We are proud to offer the world's first and only hybrid IoT architecture to businesses on their smart enterprise journeys. IoT solutions are a key item on the agenda of businesses. Organizations from all industries require innovative IoT solutions to achieve high efficiency and success in new business models. We have partnered with NetOP Technology to develop and deliver a variety of solutions for smart cities, smart airports, smart agriculture and smart logistics, and particularly Industry 4.0 transformation. For this purpose, we design, produce and implement end-to-end, turn-key SaaS (Software as a Service) projects from sensors to management platforms. We develop IoT-based SaaS cloud technologies and integrate them with SAP to provide comprehensive solutions from a single point. The 'IoT umbrella' developed by NetOP Technology to create IoT coverage in campuses such as factories, hospitals, airports, universities, municipalities and industrial zones features a hybrid structure and the capability to collect data remotely. These features enable implementation of solutions, which were previously deemed difficult in IoT and M2M projects due to both high costs and technical challenges."
NetOP Technology ranked among the world's most innovative technology companies!
NetOP Technology, accepted by four international accelerator programs in different countries to date, is now named among the world's leading technology start-ups with the level of success captured across Europe. NetOP Technology ranks among the top 25 most innovative IoT companies – selected among more than 500 start-ups – in the 2020 IoT Game Changers list of the open innovation platform "Innovation World Cup® Series" this year. NetOP is also among the world's top five innovative IoT companies with its agriculture applications.
NetOP Technology, with several notable achievements to its name thanks to the solutions developed for smart cities, smart airports, smart agriculture, smart logistics and smart factories, provides AI-based enterprise solutions as well offering IoT products for the end user on IoT-Shops.com, one of the largest IoT marketplaces worldwide.
NetOP Technology brings international certifications, patented IoT hardware architecture, more than 300 types of IoT products, exports of IoT devices to 50+ countries, patented hybrid solutions supporting five different IoT connectivity types, and IoT engineering capabilities. NetOP's strengths are now combined with Detaysoft's 20+ years of experience and expertise to offer turnkey solutions.
LPWAN (Low Power Wide Area Network) technology, which ensures long battery life with low energy consumption, enables seamless collection of data using sensors that can communicate via five different connections, namely LTE, LoRa, NB-IoT, Cat-M1, and BLE 5.X, which span vast areas and meet the needs of businesses everywhere. The data stored in the hybrid cloud environment is processed using various AI algorithms, contributing to the decision-making mechanisms and supporting business operations.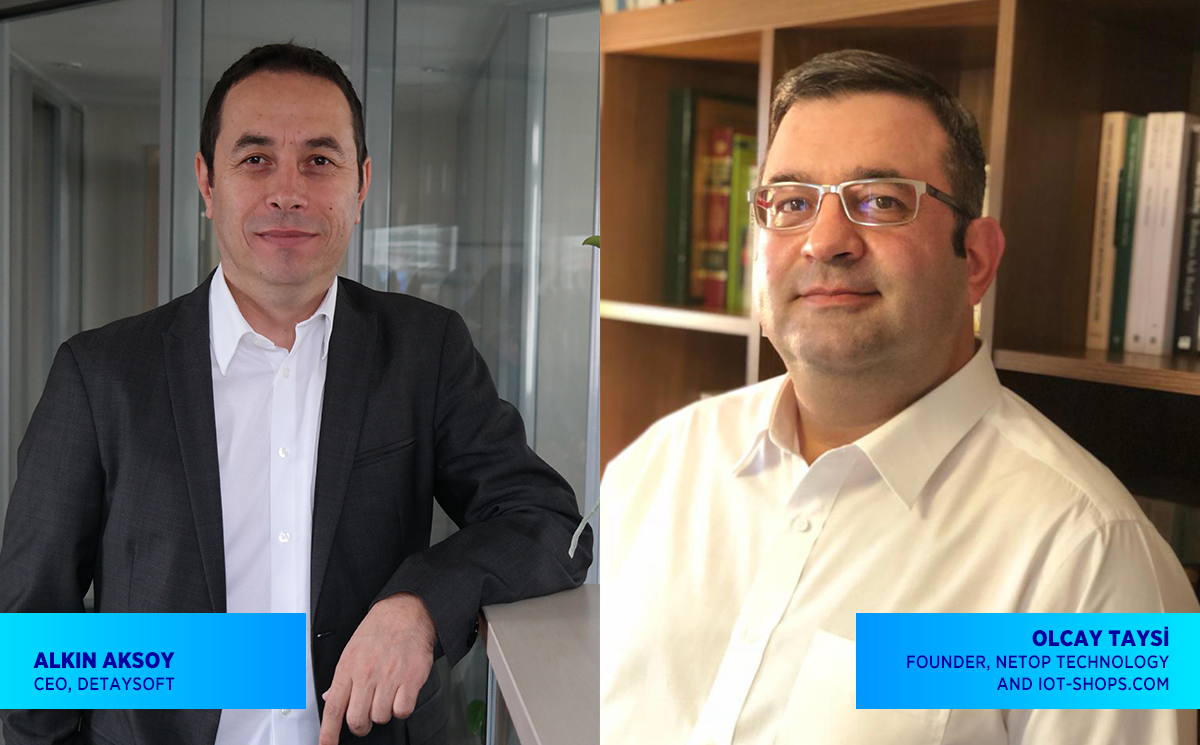 IoT solutions in the fight against COVID-19 pandemic
Olcay Taysi, Founder, NetOP Technology and IoT-Shops.com, noted that the Social Distance Sensors and Stay At Home Sensors that they developed and produced are contributing to the fight against COVID-19 pandemic, "We develop IoT solutions for different purposes in several countries. In the Netherlands, we implemented a solution to detect illegal usage by monitoring electricity consumption. We have projects ongoing in Austria, Hungary and Greece for similar solutions. The systems installed in Britain's famous red buses to monitor driver behavior and vehicles have delivered 30% fuel savings. In Buckingham Palace and Wembley Stadium, toilet usage frequency is monitored to optimize cleaning services and the consumption of supplies. In Turkey, we installed an IoT network in Istanbul Airport, where we will soon launch dozens of vertical solutions. Once the implementation of these IoT solutions is completed in one of the world's largest airports, it will likely become the largest IoT project under one umbrella globally. We take great pride in selling IoT devices to global companies that contact us thanks to IoT-Shops.com."
IoT technologies support prevention of forest fires
Olcay Taysi added that the company provides IoT-based smart solutions for a state-funded project that aims to prevent forest fires in Canada, "After five years of R&D activities, we now work to detect forest fires at an early stage with the help of a highly innovative solution, which we named the Forest Capsule. The product is robust enough to withstand dropping from a helicopter to the forest area and designed to function for a very long time with ten-year battery life. The data that Forest Capsules collect by utilizing integrated GPS, and carbon dioxide, heat, smoke and wind sensors is stored in the cloud, enabling us to provide an open source for research conducted by universities, independent researchers, and nonprofit nature conservation organizations and associations. Furthermore, the AI algorithms that work in integration with the sensors are capable of analyzing potential fire risks and alerting the authorities by supplying GPS coordinates. If a fire starts, real-time data obtained from the sensors also provides accurate geolocation information to ensure that the teams are quickly dispatched to the right sites. With the experience and support of Detaysoft, we aim to grow our success and expand both in Turkey and around the world."
For more information: info@detaysoft.com