S/4HANA delivers many innovative and state-of-the-art ERP applications of SAP such as machine learning and predictive analytics on a single platform and comes with industry-specific ready solutions. RISE with SAP, the "digital transformation as a service" model of SAP, offers all the solutions and services you need to transform your business in the way that works best for you in a single package.

Eliminate today's challenges, transform for tomorrow's opportunities. Modernize your ERP and unlock the value of intelligent technologies for your company. Join the SAP S/4HANA movement with Detaysoft, which is a member of United VARs; start your journey to the intelligent enterprise now.

Why Intelligent Enterprise

Intelligent enterprise has the ability to sense and respond - in real time - to rapid changes brought by increasing customer expectations, new innovations, and emerging competitive disruptions. Harnessing new technologies, a workforce can focus on higher value activities that drive differentiated outcomes.
35%
Reduction in capital
requirements
12%
Reduction in number
of days in inventory
20%
Reduction in
manufacturing error rate
48%
Reduction in days
sales outstanding

Why Now

Modernizing your ERP provides the foundation to connect your data, automate key functions, and constantly improve your products and services. With SAP S/4HANA Conversion, you can:
• Eliminate technology hurdles that create business challenges
• Deploy the power of AI to differentiate your business model
• Empower every employee to make faster, better decisions
• Redeploy limited resources towards customer value
• Drastically reduce IT cost
• Integrate data, intelligent technologies, and your current ERP environment on a single platform.
• Achieve continuity and flexibility without high upfront investments.
• Access everything you need to transform your business end-to-end from a single point.

Seize the future with "MoveOn!"…

"MoveOn! Detaysoft SAP S/4HANA Conversion Factory for Intelligent Enterprises" is a package solution for supporting phased conversions from an ECC system to SAP S/4HANA quickly with less effort. No matter in which part of the world you are, convert to S/4HANA with our standardized and SAP-qualified approach, utilize Detaysoft's experience and industrial know-how in areas such as Finance, Supply Chain, R&D, Sourcing&Procurement, Sales, and Human Resources.

It is an SAP Qualified Partner-Packaged Solution by Detaysoft for supporting phased conversions from an ECC system to SAP S/4HANA quickly with less effort.

MoveOn! offers 3 packages: Small, Medium and Large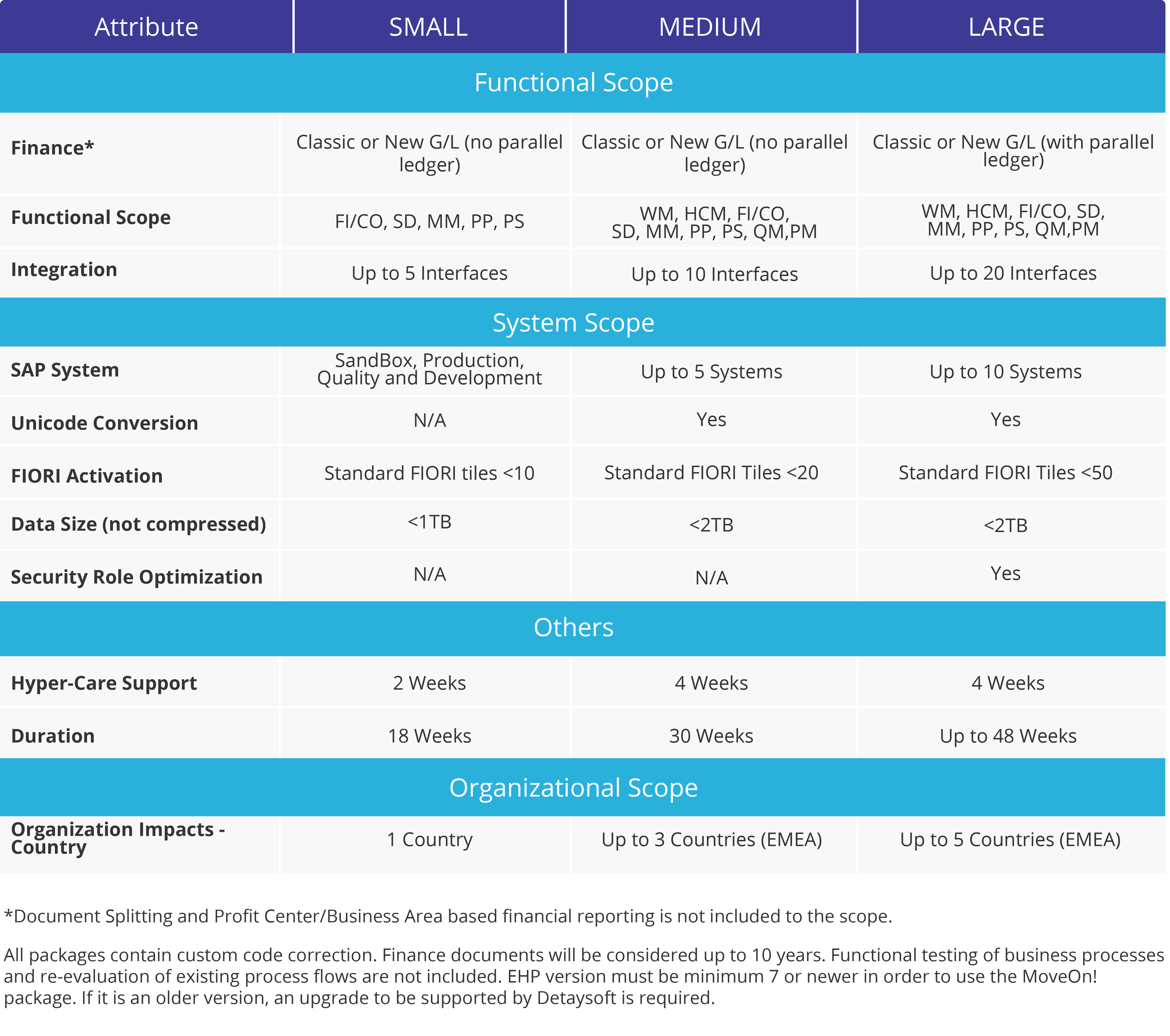 MoveOn! SAP S/4HANA Factory Process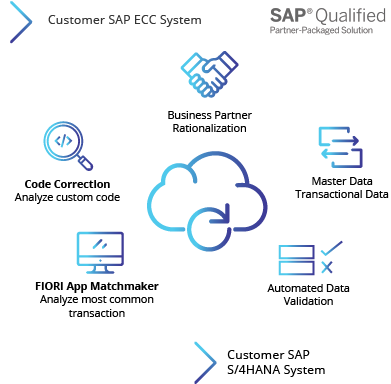 Why Detaysoft
• A top-level SAP Platinum | Global Partner
• The only member of United VARs in Turkey
• 20 years of experience
• Deloitte Technology Fast50 company
• 400+ skilled employees
• 20 S/4HANA success stories
• Award-winning digital transformation projects
• Experience in 20+ countries